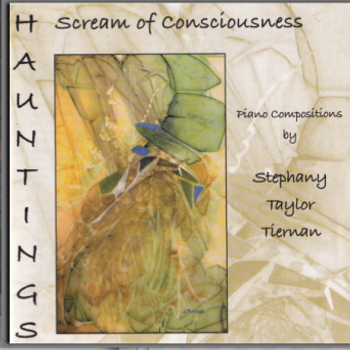 Hauntings:Scream of Consciousness
Stephany has performed and recorded much of her own piano music and her works are often inspired by her interest and studies in Irish culture and language.  In this CD she has used visual imagery, poetry, ancient sean-nós singing, celtic symbols, festivals, holy places, etc. for her inspiration and has created pieces that connect her to her Irish roots. Her piano compositions, including a piano quintet, are featured on her CD, "Hauntings:Scream of Consciousness" which was released in 2001.
click here to buy
Welcome
This site is currently under construction.  Please check back soon to find out more about the music of Stephany Tiernan!
"Contemporary Piano Technique: coordinating breath, movement and sound" has just been released by Berklee Press/Hal Leonard.  This book and DVD will help you develop expressive, virtuosic, and healthy piano technique for contemporary and classical styles.  Step by step, through integrated written directions and video examples, you will see exactly how to move your fingers, wrists, arms, feet, body, and breath to achieve maximum expressive effect and technical facility.  Developed by Stephany Tiernan as a continuation of the groundbreaking work by Mme. Margaret Chaloff, this approach to piano technique has been used by thousands of pianists worldwide.  The DVD demonstrates each technique in isolation and in the context of playing repertoire from jazz, rock, new age, Latin, and classical styles.
Breath, Movement and Sound
Example Rich Text Widget
You can customize your widgets in your dashboard, by selecting Widgets on the left sidebar.
This is a rich-text widget, which can contain:
formatted text,
images,
and more.
Feel free to experiment!